Were you miss-sold a S.I.P.P.? Self Invested Personal Pension?
Following the pensions freedoms in 2015 many people were offered considerable sums of money to leave their work pension, this was understandably an attractive option. Often they were advised to transfer into a S.I.P.P. after which they took some cash out to spend.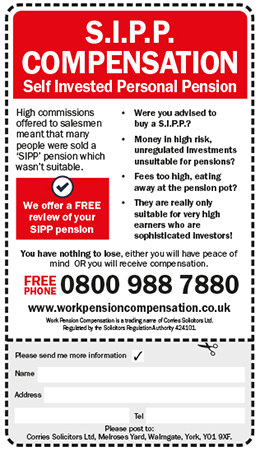 The Problem with S.I.P.P.s:

They are not recommended for the general public
They were specifically created to allow seasoned investors the opportunity to take more risks, and are not recommended for the general public.

Fees are way too high
They allow for high management fees which is why financial advisors like to recommended them! We have seen cases where the fees are so high that the pension pot reduces substantially each year until only a fraction of it is left.

Unregulated investments
When things go wrong there is no protection and you can potentially can lose everything. It's your pension you do not want to invest in unregulated products.

High Risk investments
Pensions should be safe. S.I.P.P.'s allow high risk investments which are unsafe and not suitable for pensions for most people.

High Commissions
High commissions are offered to financial advisers to recommend a SIPP.
High commissions are available to financial advisors who recommend high risk investment products.
High commissions are available to financial advisors who recommend unregulated investments.
The incentive to sell you something which is unsuitable is obvious!
Does any of the following apply to you?

Lack of understanding – you did not understand the process or investment that you were advised on?

Hard sales or pressure selling – you felt uncomfortable or pressured into an investment that you didn't really need or want?

Given poor advice – you were advised to switch, even though your existing scheme was more suitable?

Not clear about the fees – you were not made aware about the management fees?

No advice given on risks – you were not made aware of the risky nature of the investments?

Tax avoidance – did your advisor say a SIPP could be used for tax avoidance?
If any of the above applies to you it could mean you are eligible for SIPPs compensation.
FREE Review – You have nothing to lose
We offer a FREE review of your SIPP. We will advise you whether you have been miss-sold and are entitled to compensation. Or we will advise you that in our opinion there is not a claim.
We can clearly identify a miss-selling case where you may not.
The process is simple, to get things started all we need is the name of your SIPP provider and policy number.
There is no cost to the review whatsoever.
Our Team
Our team include some of the uk's leading pension experts. We are dedicated to helping people claim back the money that they could be owed from a mis-sold SIPP.
When you decide you make your claim with us, we will contact SIPP provider on your behalf. We will then put forward your case, explaining clearly how you have been mis-sold.
We only employ the best team members to fight in your corner, so when you make your claim with us, you can be sure you have the best chance of success.
Please call us for a FREE REVIEW of your pension on 0800 988 7880.
---
Work Pension Compensation Team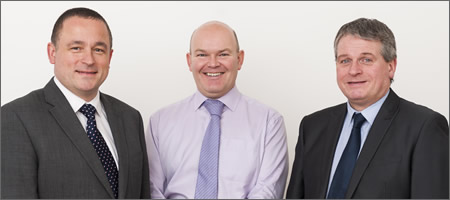 Charlie Bradley – Mark B Dawson – Dave Lamb
For a free review of your pension to advise you if you are entitled to compensation please contact us on: 0800 988 7997 or use the Free Review form on the right.
Request a FREE review of your S.I.P.P. pension here
Mr B from West Bromwich – £200,000
Mr B from West Bromwich was advised to take out a SIPP after he was made redundant from a major engineering company for whom he had worked for over 30 years. He was able to transfer his final salary pension which had a transfer value of over £500,000. He was advised to put the money into a SIPP on the promise of wonderful returns. We carried out a review and found that the investments were unregulated, inappropriate and subject to high fees and difficult to access. We secured compensation of over £200,000.
Mr J from Sheffield – £350,000
M J from Sheffield was advised to take out a SIPP after leaving a senior management position at a retail company. His transfer value was £800,000. He was advised to put the money into a SIPP which was invested in heavily unregulated investments and which promised huge returns but, were in fact highly speculative and risked losing everything. We carried out a review and successfully secured compensation of over £350,000.

£28,000 - Asbestos Claim
Gloria Langton
"I don't think I could have coped without you and your professionalism especially on the day of the final inquest which was particularly harrowing for me. Your kindness and patience towards my father whilst he was ill was also very much appreciated.  I have and will continue to recommend you to friends, colleagues and family for your services."
£55,000 - Asbestos Claim
Charles & Ann Parker, Bracknell.
"Ann and I want to thank you very much for all your hard work in the successful conclusion of my case. It has been a great pleasure, once again thank you for everything"
£1,024 - Road Accident Claim
Pamela Tegg, Southampton.
"I thank you most sincerely for all the effort you put in on my behalf. I hope your employers are proud of the fact you work so efficiently and to such high standards."
£19,000 - Pension Claim
Ms Meakin
"I am very happy that this claim is now finally settled and thank you so much for the service you provided. It was exemplary. And you have been most patient with my numerous phone calls."
£130,000 - Asbestos Claim
June Abbott, York.
"Thank you for handling Peters claim and getting settlement."
£9,000 - Work Accident Claim
Keith Aston, Bristol.
"Thank you for the cheque for £9,000 in settlement of my claim. Fingers crossed there will not be any further accidents; however I would like to thank you for the professional manner you dealt with my accident claim. The most important part of a solicitors job is communication and I must thank you for the way you kept me updated on what was going on."
Industrial Disease Claim
Ben Roalfe.
"I would like to express my gratitude to you personally and also your team and company for achieving such brilliant results on my behalf."
Industrial Disease Claim
Ian Lawson.
"Just to update you. The cheque has arrived. Many thanks for all the hard work you put in to bring things to a positive conclusion. It was refreshingly straight forward and easy to work with you during a challenging time for us all. Thanks for your empathy, help and support."
Corries Solicitors Ltd, Melroses Yard, Walmgate, York, YO1 9XF. Registered number: 5517012. Corries Solicitors Ltd is authorised and regulated by the Solicitors Regulation Authority under number: 424101. Corries are licenced by the Office of Fair Trading under the consumer credit act 1974 Ref No: 656678/1