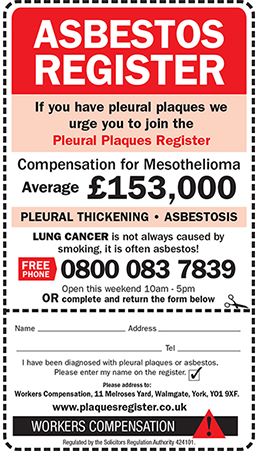 Join the Pleural Plaques Register... it's Free!
Pleural plaques is a scarring of the lining of the lung. It is caused by asbestos exposure. Around 1 in 10 people with pleural plaques go on to develop Asbestosis, Mesothelioma, Lung Cancer or Pleural Thickening. Since 2006 people in England & Wales have been denied compensation for this condition, whereas in Scotland they receive up to £15,000. We think this is unfair.
If you have been diagnosed, we urge you to JOIN THE PLEURAL PLAQUES REGISTER.
We will keep you updated about Pleural Plaques compensation in England;
If you ever develop a more serious asbestos illness, the information on the register will help you secure compensation;
You will help the people you worked with by confirming that asbestos was used in your workplace;
You will receive a registration card.
What is involved?
It is simple.
Just fill in our online form or phone us on Freephone 0800 655 6550 and our plaques register team will get to work for you.
We will obtain your employment history from the H M Revenue Office and find out where you were exposed to asbestos. We will then keep this on our register and keep you updated.
---
Corries will never turn a case down until we have exhausted every option. Call our team now on 0800 655 6550 for a free no obligation discussion.
Pleural Plaques Register Join Free Today
By submitting this form you are confirming that you have read our privacy policy and agree to us to processing your personal information.

£28,000 - Asbestos Claim
Gloria Langton
"I don't think I could have coped without you and your professionalism especially on the day of the final inquest which was particularly harrowing for me. Your kindness and patience towards my father whilst he was ill was also very much appreciated.  I have and will continue to recommend you to friends, colleagues and family for your services."
£55,000 - Asbestos Claim
Charles & Ann Parker, Bracknell.
"Ann and I want to thank you very much for all your hard work in the successful conclusion of my case. It has been a great pleasure, once again thank you for everything"
£1,024 - Road Accident Claim
Pamela Tegg, Southampton.
"I thank you most sincerely for all the effort you put in on my behalf. I hope your employers are proud of the fact you work so efficiently and to such high standards."
£19,000 - Pension Claim
Ms Meakin
"I am very happy that this claim is now finally settled and thank you so much for the service you provided. It was exemplary. And you have been most patient with my numerous phone calls."
£130,000 - Asbestos Claim
June Abbott, York.
"Thank you for handling Peters claim and getting settlement."
£9,000 - Work Accident Claim
Keith Aston, Bristol.
"Thank you for the cheque for £9,000 in settlement of my claim. Fingers crossed there will not be any further accidents; however I would like to thank you for the professional manner you dealt with my accident claim. The most important part of a solicitors job is communication and I must thank you for the way you kept me updated on what was going on."
Corries Solicitors Ltd, Melroses Yard, Walmgate, York, YO1 9XF. Registered number: 5517012. Corries Solicitors Ltd is authorised and regulated by the Solicitors Regulation Authority under number: 424101. Corries are licenced by the Office of Fair Trading under the consumer credit act 1974 Ref No: 656678/1